Ok then, the next stage was putting it all back together...
Clean the face of the engine block which the water pump mounts to, install the gasket and the water pump. Tourqe the water pump retaining bolts to 13Nm.
Next stage is to install the cam seal retaining plate. Clean/scrape the face of the cylinder head of any old sealant where the cam seal retaining plate is mounted. Remove the old cam seal from the retaining plate and install the new cam seal, I found a 1 1/4 inch socket was a nice size to press the new seal in with. Clean the back face of the cam seal retaining plate of any old sealant also. Smear new sealant on and around the groove on the back of the cam seal retaining plate in preperation for installation. Mount the cam seal plate in position and tourqe the bolts to 10Nm.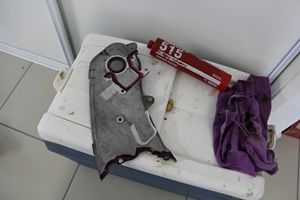 Thats when Ghost dropped by to pester me and watch me work... Nah seriously Dawg - Thanks mate I appreciate your help! We took it easy that arvo and ripped the viscous fan apart in the shed, gave it a clean and repacked it with some new silicone oil... Dont ask me 'How do you know when its full'.... All I know it sucks air thru the radiator like nothing else... but it seems to stay on alot as well - I think i... um... we over filled it!