I bought a hidden winch mount from J66P and installed it this weekend. The mount itself is one heavy duty piece of solid steel...
Here is what it looks like, once installed. Note that I haven't installed the winch yet...
A couple of comments. The mount itself is made of thick steel, all welded into one solid piece. It looks indestructible. Don't drop it on your foot, as it weighs 21 kg. It is mounted to the chassis using only 4 bolts—the ones used for the eye hooks. But, because the rails go way back, almost to the front suspension mounts, the bolts apply plenty of leverage no matter whether you push up or down. Once those bolts are torqued to spec, it's held in place by friction between the chassis and the rails, and it's not going to move. The whole setup seems much stronger than your typical winch bumper.
So, I'm figuring this can handle extreme winch angles, without any difficulties—assuming the fairlead bolts can handle it. I jumped up and down on the winch mount (when the bumper was still off), and I couldn't feel any movement. Moreover, it looks like this can be used as a jacking point for a Hi-Lift jack.
The winch mount sits a bit lower, and further back, than a typical winch bumper mount. This seems to put the winch more toward the vertical centre of gravity, which can have an advantage. When you typically start winching with a bumper-mounted winch, you'll notice that the front suspension gets pushed down. That's because the raised height and mounting system acts as a lever, applying downward force on the front and upward force on the back. With the lower mounting, this effect is reduced, or possibly even eliminated. That means better winching on soft ground. As for the approach angle, it seems about the same as the stock plastic bumper. It might be a bit worse if a roller fairlead is mounted—I'll let you know.
Installation does require some work, but nothing too difficult. The main challenges I ran into were:
1. Grinding down the tabs on the front chassis mounting. I ground the two inner tabs, and then cut the two bottom tabs, using an angle grinder. I wanted to make sure the bottom tabs didn't come into contact, so I shaved off an extra millimetre or two...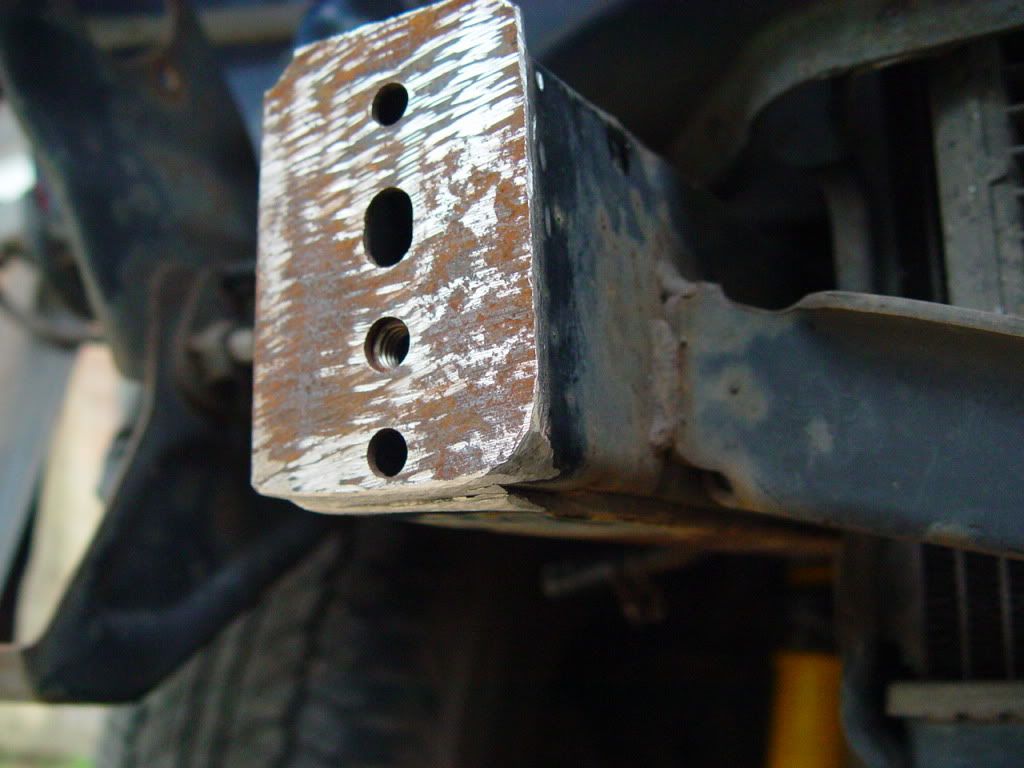 2. Trimming the bumper. I tinkered quite a bit to see if I could leave some extra material on the bottom. But, it seems this is not possible unless I was to cut some kind of zig-zag pattern and install lower mount extensions. So, I just cut it in the same way that J66P did. That left me with two of the four lower bolt mounts, which is still pretty reasonable.
3. Skid plate. When I first tried to fit the winch mount, I discovered that it couldn't fit past the skid place, which was about 1 cm too wide. So, I had to remove it (both plates), and do a little bit of bending with a wrench and hammer. No big deal. Once I re-mounted it, I had a couple of millimetres of clearance on either side.
So, I'm quite pleased right now. This is a solid mount, and it looks pretty classy. I'll be using wire rope, but I haven't yet decided whether to go with roller or Hawse fairlead. The roller should be able to handle the more extreme angles, and I think it will look good with a fairlead cover on. The Hawse would have a smaller profile and better approach angle. I'll be installing the winch next weekend.
FYI, J66P's website is at:
http://k4designs.webs.com
QUESTIONS
1. What should I torque the bolts to? They are labelled '8.'
2. The coating is thick and heavy duty. I'm wondering whether I should scrape this away where the washers for the bolts come in contact—to make sure there is metal to metal contact? Maybe even scrape the entire surface area of the rails that are in compression against the chassis? Would that make any difference?
3. Is there such a thing as a Hawse fairlead cover?
4. I remember seeing a roller fairlead cover that had a harness on the inside for the winch hook. As one pulled in the winch rope, the cover would securely lock into place. It had a handle on the outside. Does anyone know where to get one of these? I thought I saw it on an 80 series.
BlueRock
2001 LC90 D-4D, just lifted, and now with winch mount