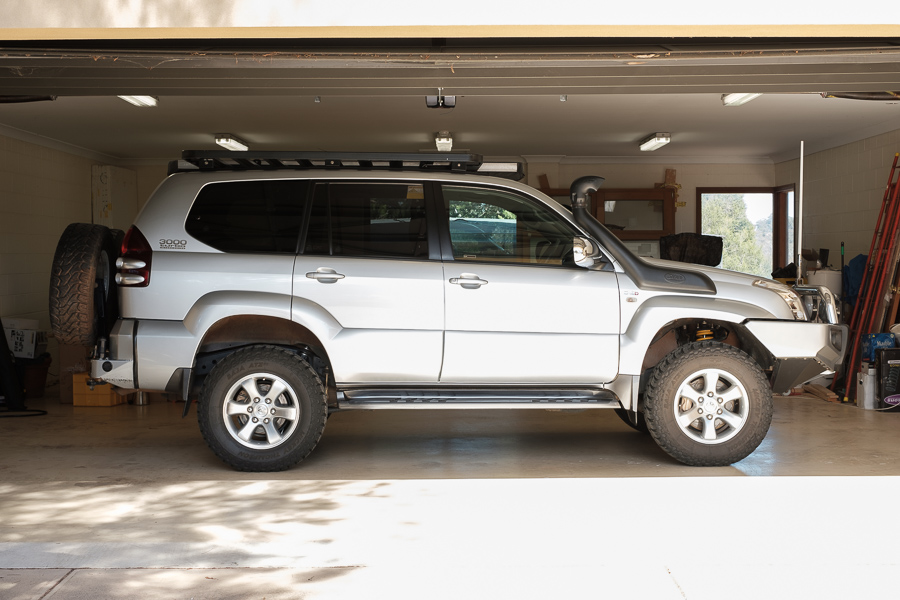 Toyota Prado 120 2008 Manual. 62,235km.
https://www.carsales.com.au/cars/det...SE-AD-5365974/
Bought new in 2008 from Kittle Toyota at Para Hills West SA for outback trips. Ordered with the manual transmission and the side airbags. Tow bar. Installed the Mickey Thompson ATZ from new and they have been strong and reliable. Replaced the ATZ with the ATZP3
We have a 79 series on order will be here around in a month, so the Prado is on sale.
The Prado has been an excellent outback vehicle. Reliable and strong, capable of travelling on the highway to get to the outback dirt areas we have spent most of our time on the trips: Flinders Ranges, Ooodnadatta, Lake Eyre, Birdsville Track, Strzelecki Track, Alice Springs, Darwin, Gibb River track, Broome, Tanami Track, Finke Gorge, Ayers/Yulara, Olgas/Kata Tjuta, Snow skiing at Falls Creek. Many other places.
Always camping in tents and swags, have not ever taken camping trailers or caravans with the Prado in the outback.
Improvements to the Prado over time:
Suspension:
Upgraded last year to Ironman Foamcell Pro with specific valving for the Prado by Whitey, and the correct springs for outback trips. The front lower arms suspension on the Prado has a 2.1:1 ratio of the shock absorbers location and needs specific valving to keep it under best control. The Ironman suspension has been excellent. Along with the shocks and springs, we added Superior Engineering spacers for the front roll bar, and extension rods for the rear roll bar. Added airbags for the rear springs if weight is above expected.
ARB Sahara Bullbar
ARB Air Compressor
ARB Safari Snorkel
IPF 900 driving lights with a pair of pencil and spread.
Rear shock stone protector plates.(Tin's)
Rear brake lines replaced with longer lines.
Diff Breathers, front and rear
Front Bashplate from Bushkinz4x4
Diffdrop kit installed. (AMTS)
Twin front recovery points.
Front and rear DBA slotted discs (T3 front, T2 rear).
Windcheetah Roof rack, 2m length.
Tigerz shade canopy
Drifta rear 2 drawer system with removable table.
MCC dual rear wheel bar.
Sandgrappa floor protection front and rear.
Icom IC440 UHF CB Radio
RFI CDQ 5000 White Rugged 5db UHF CB Antenna
Parrot Navigation system with hifi and phone connection, rear view camera.
OziExplorer in the Parrot system.
Adjusted electric power from the alternator via diode system. (Leigh)
Cable to the rear able to connect to a rear battery system and fridge. (Battery and fridge not for sale)
Cargo Barrier between the rear cargo area and the passenger area.
Kings rear seat pockets system.
Original third row seating will be included.
Any parts we have stored for the Prado trips will be included like the engine belts, radiator hoses, wheel studs, oil filter, fuel filter, etc.
Regular Maintenance from the Toyota dealer and other experts.
Extra maintenance done due to years, not kilometers:
Timing Belt replaced Dec 2016 50,000km
Injectors replaced Dec 2016, 50,000km
EGR system cleaned and Dec 2016.
EGR restriction plate installed Dec 2016