My OME springs are installed now. Here are the technical details:
Front springs: OME 882
Front shocks: OME N91S
Rear springs: OME 892X
Rear shocks: OME N86
Suspension height before lift (stock):
Front (left / right / avg): 753 748 750 mm
Rear (left / right / avg): 750 740 745 mm
Suspension height after lift:
Front (left / right / avg): 824 820 822 mm
Rear (left / right / avg): 820 809 814 mm
Net amount of suspension lift:
Front (left / right / avg): 71 73 72 mm
Rear (left / right / avg): 70 69 70 mm
All numbers are the average of two measurements, with the vehicle in opposite orientations, on the flattest surface I could find. Vehicle is stock, empty, with full tank of fuel, towbar, 3rd row seats installed, and tyres at 29 psi. This is a 2001 90 series Colorado GX, with the 3.0 D-4D engine. Measurements are from bottom of rim through centre up to edge of wheel arch. I would guess accuracy is something like +/- 2 mm.
The front is a bit higher than I expected. I had assumed that the 3.0 D-4D engine was something like 90 kg heavier than the regular 3.0 TD. But, the above numbers put this assumption into question. I was particularly alarmed after my first measurement, with only the front installed:
Front only (left / right / avg): 834 828 831 mm (single measurement only)
But, the front came down a bit when the rear was lifted. And, after doing some calculations, I think the front will probably be ok, once I install the winch. Here are my back-of-the-envelope calculations:
CALCULATIONS
Lfb = Lever effect at front bumper = (268 + 80) / 268 = 1.30
Lsp = Lever effect at spring (lower A-arm) = 1.85
Rsp = Spring rate = 500 lbs / inch (according to OME)
Din = Displacement height at wheel (inches)
Flbs = Force (net weight) at bumper (lbs)
After some scribbling, I came up with the formula...
Flbs = Din x (2 x Rsp) / (Lsp x Lsp x Lfb)
Which works out to...
Flbs = Din x 225
Converting to metric...
Dmm = Displacement at wheel (mm)
Fkg = Force at bumper (kg equivalent)
Fkg = Dmm x 4.0
In simple English, every 4 kilograms added at the bumper will bring the front suspension down by 1 mm.
So, I need to add about 80 kg to bring it down to the 2 inch region. Considering that the winch alone will weigh 40 kg, this sounds perfectly doable.
The rear is a bit lower than I expected. But, presumably that's easy to correct by adding a spacer. Or, I can just remove the third row seats, and see what happens. The spring rate of the 892 is a lot higher than the 891 (400 vs 210 lb/in), so it should be able to handle loads better. The ARB folks said that the 892X had the same spring rate and characteristics as the 892.
Overall, the suspension feels a lot better than stock. However, the alignment is way out, at the moment.
Here are the pics!
Before the suspension lift...
After suspension lift installed (OME 882 / 892X)...
Here are the CV joint angles. Is this healthy?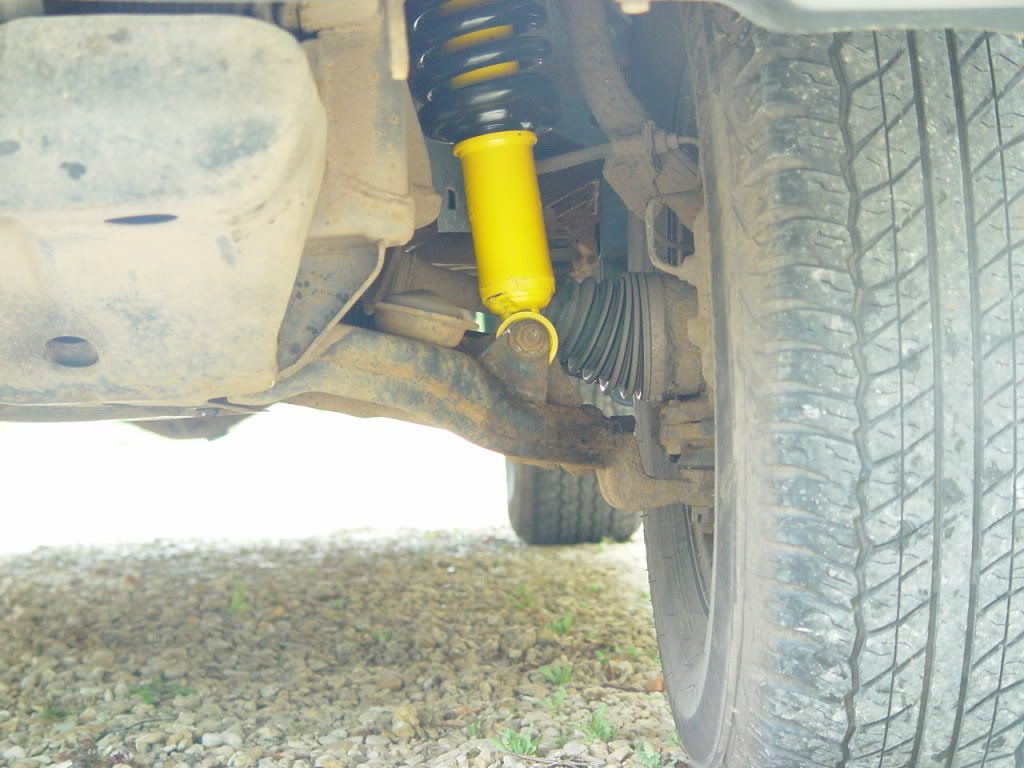 QUESTIONS
1. How important is it to bring the front down to the 2 inch mark? If I'm a little bit over, is that ok? I'm considering a hidden winch mount, which would be lighter than full-blown kangaroo armour.
2. With the front nominally 21 mm too high, how much wear does that put on the CV joints? I've been keeping my speed below 50 mph, for now, and haven't gone on the motorway yet.
3. When should I get my front-end alignment done? Should I wait until the winch is mounted? And, if I decide to get rims with a slightly different offset, will that affect the alignment? I'll be replacing my tyres too, at some point soon.
Cheers,
BlueRock
2001 Landcruiser 90 (Colorado) D-4D, now lifted!